There are also a few choices of materials that you can choose from for ballet shoes. They can be made out of canvas, leather or satin. Satin shoes are primarily used for recitals Leather is a classic shoe material that has a smooth appearance. This material will not stretch very much. Canvas shoes will stretch.
When purchasing ballet shoes you will also have a selection of colors, generally white, black, and pink. Normally, pink are for girls, and white/black are for boys. Some contemporary styles of slippers for women are are also being made in a flesh tone. You should check with your dance instructor to determine what is required for your studio.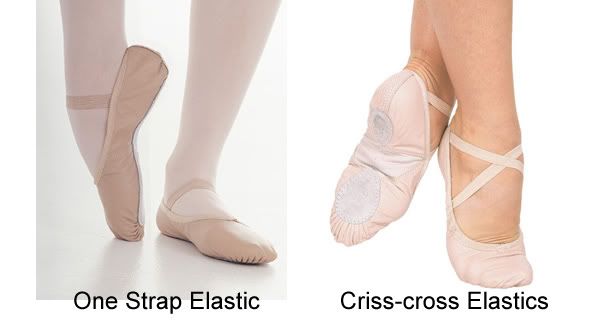 Elastics are what keep ballet shoes on the ballerina's feet. Some slippers will come with pre-attached elastics and with others you will need to attach them yourself. There are two different ways to position the elastics to the slipper. You can either go straight across from one side of the shoe to the other or you can criss-cross the elastic over the instep of the foot.